Published Thursday, November 8th, 2018
Categories:
Double Glazing Cardiff
Atlas Installer Of The Month
We're proud to have been awarded Atlas Installer of the month. We chose Atlas as our lantern roof partner because of the sheer quality of their systems, which feature fewer bars than those provided by competing manufacturers. Better sightlines are created, too, thanks to the ridge, which helps produce even better views of the sky above.
Overall, an Atlas roof reduces obstructions by 30%, so you'll benefit from more light entering your orangery or house extension. You can even choose to have roof lantern constructed entirely from aluminium or uPVC capping. Either way, you'll be able to enjoy better views  – and a greater sense of space – when you choose Glasshouse as your installer.
Innovation is at the heart of what we do, which is why we were able to come up with a dynamic solution for our customer. As you can see from the photos, this eye-catching modern kitchen extension stands out for all the right reasons. Contact us to discuss your ideas or use our lantern roof designer tool to explore different concepts today.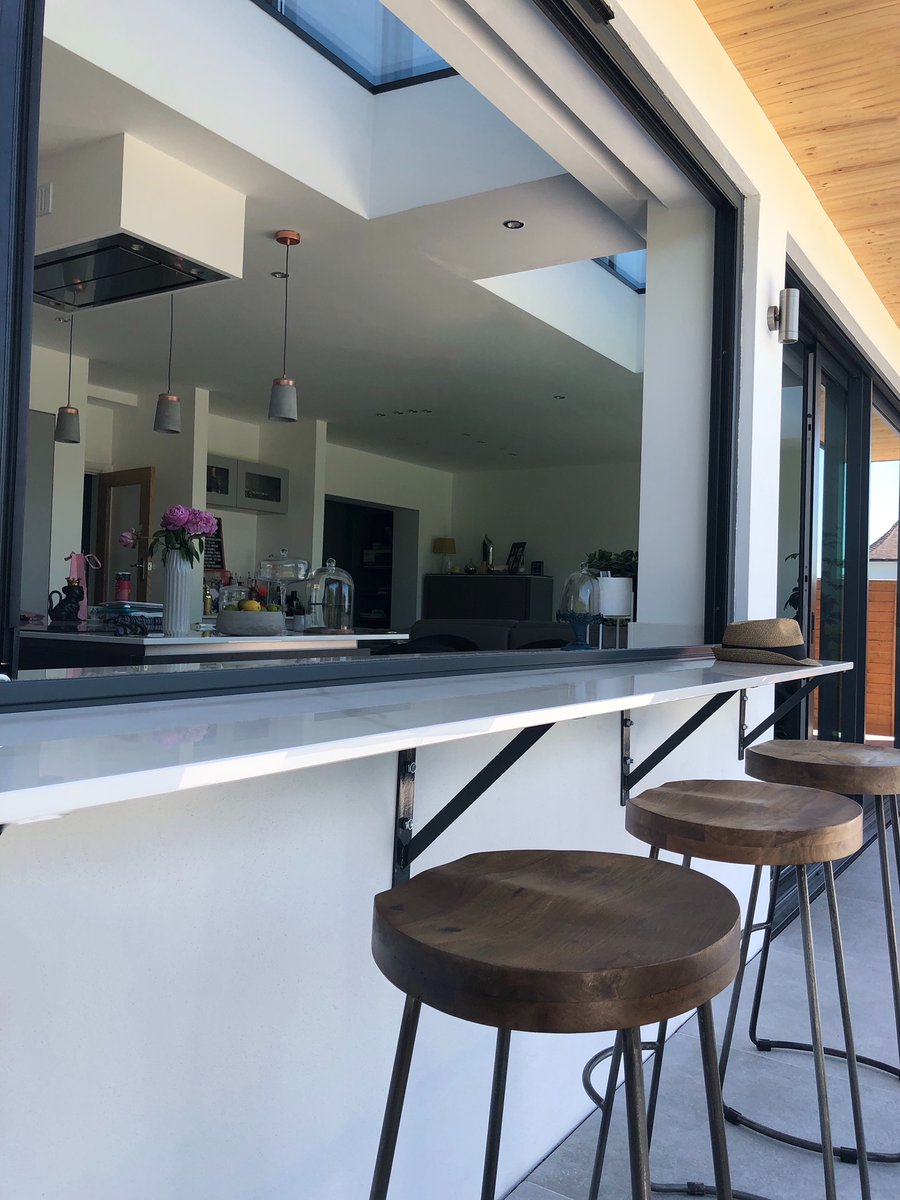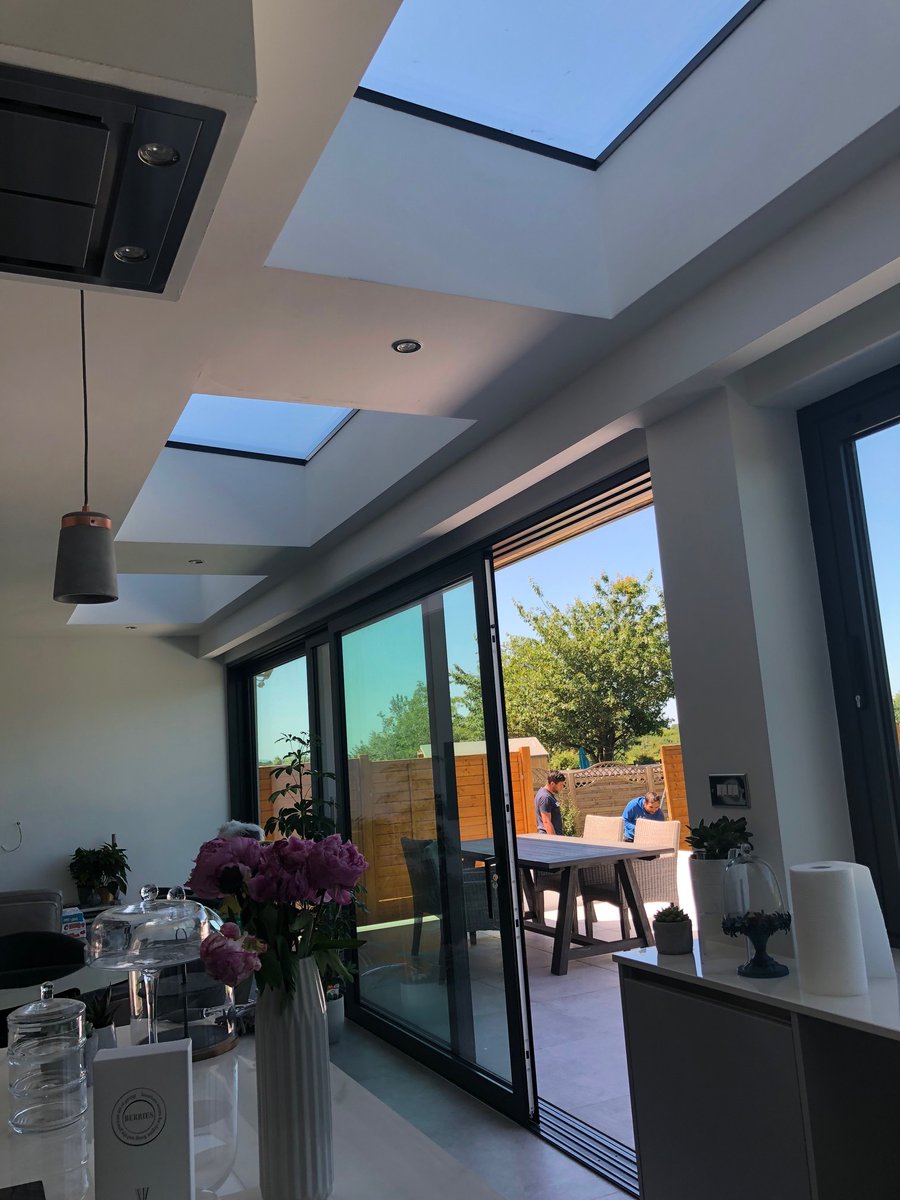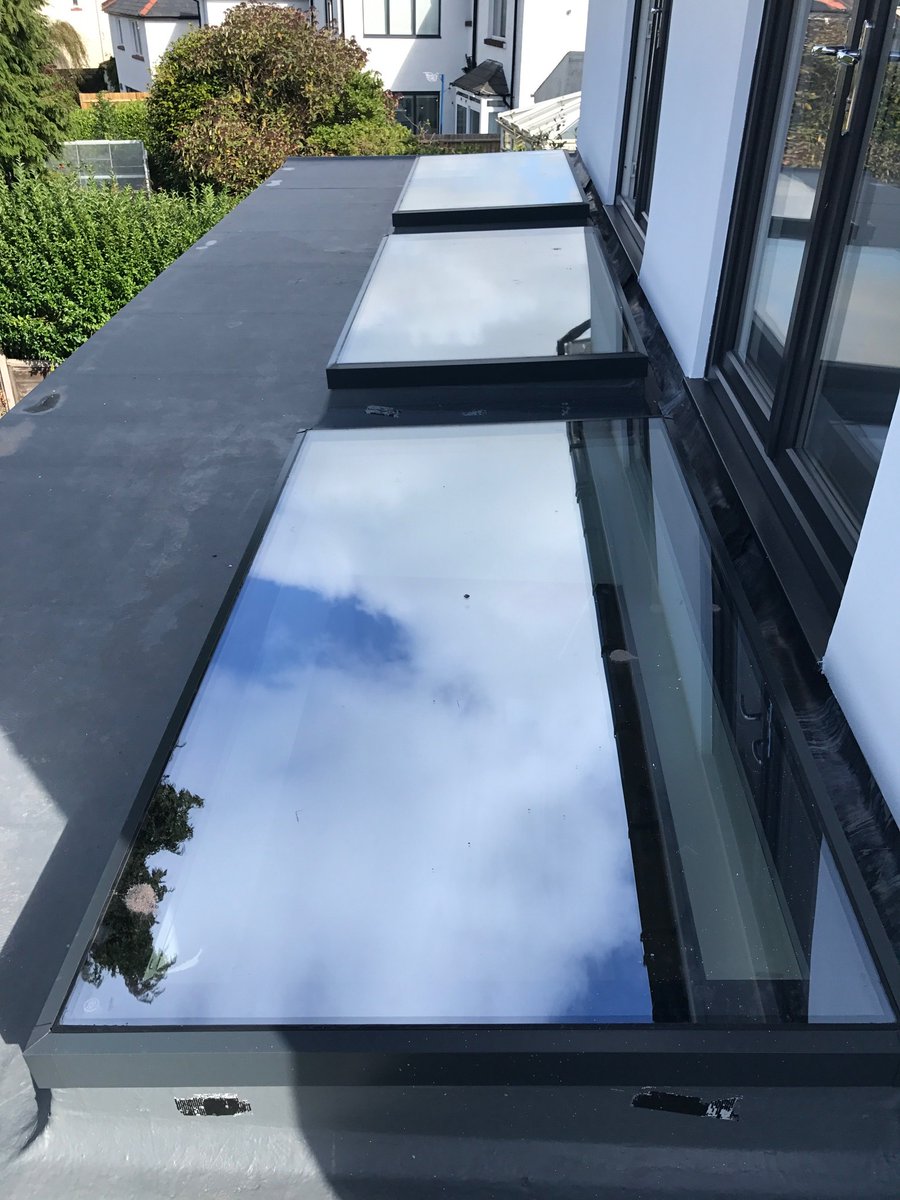 ---
Creating a Modern Kitchen Extension: What We Did
The home that we completed work on was based in an area of Cardiff called Lisvane. The home features four bedrooms and wouldn't look out of place in somewhere like California. There is even a swimming pool the rear of the property. The owners had already invested a great deal of money into their home but wanted to further improve it by modernising their extension with a roof lantern and bi-fold doors.
A modern look was achieved by using neutral grey tones in the kitchen and fittings that communicated a minimalist look. Rectangular and square shapes are used throughout to ensure consistency of design. For example, you can see how the cupboards and wall-fixed units work in tandem with the rooflights to create a contemporary looking kitchen diner that leads out into the garden.
The Roof Lantern
Three rooflights have been installed in a sequence just in front of the modern-looking bi-fold doors that lead visitors out into the garden. The roof lanterns, although separate, work as a notable decorative feature that will catch the attention of anyone who comes to visit. The Atlas roof system we used really focusses the light and further improves the illumination provided by the concertina doors.
The Bi-Fold Doors
Access plays a pivotal part in the design of this modern kitchen diner. The bi-fold doors match the low-key tones used throughout and provide clear views of the outside all year round. During the colder weather, the family can enjoy their breakfast in a room that is filled with light; despite the grey hues used interchangeably here, this is a room that will never feel too enclosed.
When the warmer seasons arrive, this room will come into its own. The swing out doors can be opened wide to let in lots of cooling breezes and visitors will be able to easily alternate between the kitchen and modern pool area. This really is a room for all seasons. If you like the look of the design we created here, contact us for further information or a no-obligation quote.
---
Roof Lantern Prices, Cardiff and Surrounding Areas
Find out why Glasshouse was awarded Atlas Installer of the Month by contacting our experienced team today. We will find a design solution that works for your project and within your budget.
Our range of timber, uPVC and aluminium products are sourced from only the best industry partners and will complement the strong performance and exquisite looks of your brand new roof lantern.
Get an online quote in just a couple of minutes – using your mobile device, tablet or home PC – by accessing our roof designer tool. You can use the app for almost all of our products to get additional quotes.