Published Friday, July 5th, 2019
Categories:
Double Glazing Cardiff
Spitfire Doors Now in Showroom
Glasshouse Ltd now have Spitfire doors in our showroom! These stunning and luxurious doors will transform the look of your home with ease. Not only this, but they boast incredible performance that is sure to last for many years.
We have two new Spitfire doors that you can view – the S-200 and the S-500. These doors are ideal for those who want to stand out from the crowd. Spitfire entrance doors are constructed out of premium grade aluminium. These doors combine the appeal of thermal performance and security with aesthetic appeal.
You can find our showroom in Cardiff. Get in touch with us to find out more information today.
---
Stunning Spitfire Doors
S-200
These Spitfire doors combine functionality with form, adding contemporary design and cutting edge technology to your home. Our range of Spitfire doors far exceed the standards set by regular composite doors. You will be able to see up close, and personal how much care and detail that goes into the construction of each one to ensure a transformative installation. These fuse the visual appeal with all the modern day advancements in technology for performance and stunning aesthetics.
These bespoke designs feature a thermally – broken aluminium low threshold – ideal for accessibility.The glazing is a triple glazed laminate safety glass which will help to enhance the security of your home adding extra protection.
These doors provide unrivalled levels of insulation, security, durability as well as visual appeal. Please do not hesitate to get in touch with us today about our S-200 Spitfire doors.
---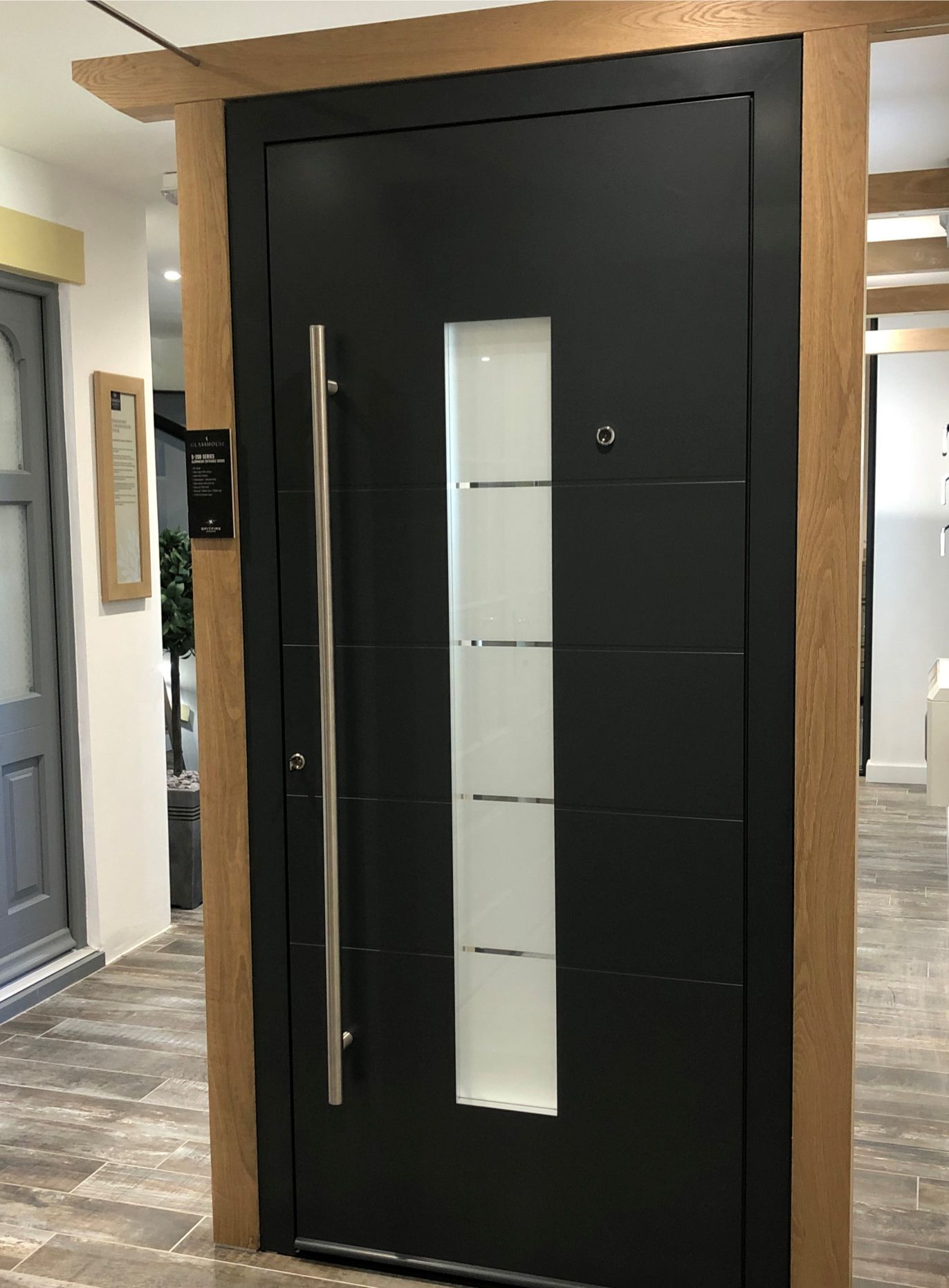 ---
S-500
The S-500 Spitfire doors have a contemporary design which can be further customised with any colour from the RAL shade range. By opting for a stunning woodgrain finish, you will be ensuring that these doors craft an individual appeal through combining timber effect pieces and modern styles.
With unique integrated technology, our Spitfire doors will transform your way of living. By enhancing security features while still displaying a sense of luxury and elegance, our doors are beautiful and practical. The perfect choice for homeowners in Cardiff and the surrounding areas.
These doors as standard feature high-quality multi-point locking mechanisms as well as an solid stainless steel. These can be further enhanced with even more advanced technology. For example, opt for an automatic lock that features a finger scanner, keypads and even Bluetooth connection to your smartphone.
These can be completely bespoke and tailored to your property however you want. Not only this, but they feature exceptional thermal performance. This means that you will save money on your energy bills as well as reducing your carbon footprint.
---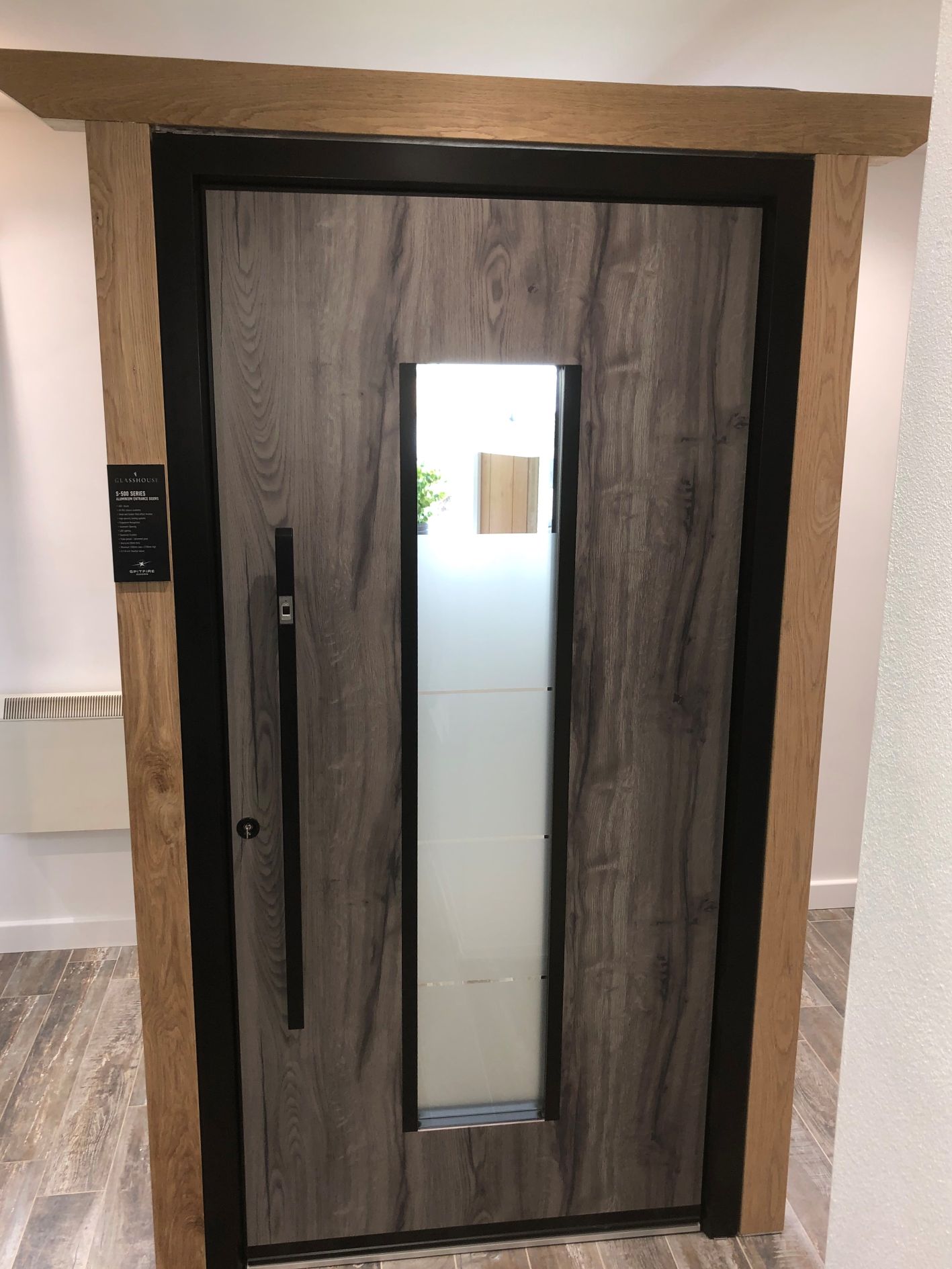 ---
Customise Your Spitfire Doors
Our Spitfire doors can be customised to look however you want them to. That means you can choose the colours, finishes, hardware options and even decorations and lights that can be installed around them. Try the Spitfire Door Designer. There's no need to worry about whether these will match the aesthetic of your home. This is because you have full reign about how our Spitfire doors will look for you.
---
Thermally Efficient Spitfire Doors
Spitfire doors are not only stunning to look at, but they create a thermal barrier. This means that they will stop the cold air in its tracks and prevents heat from escaping. This will help your home to feel warmer for longer. Better yet, you will not have to have your heating on for as long.
As a result, you may notice that your energy bills have seen a reduction. This means that you could save money on your heating due to these outstanding doors and their thermal performance.
Our Spitfire doors will be sure to be a worthwhile investment. Less energy also means lower carbon emissions. This is great as with modern living we all must do our part to ensure that the environment is protected.
---
Secure Spitfire Doors
Security is one of the most important aspects of any home improvement. This is especially true about entrance doors. Our Spitfire doors feature state of the art security technology to ensure that you and your family are protected from potential intruders and those who may be trying to gain unlawful access into your home.
Aluminium, in itself, is a robust material that requires no reinforcement to be reliable and secure. As standard, all Spitfire doors are fitted with multi-point locking systems as well as shootbolts. This can be enhanced through fingerprint scanners, keypads and even Bluetooth links to your smartphone.
When buying one of these residential doors, you can have peace of mind knowing that you, your family and your possessions are safe from burglars. If you would like to find out more information about how our Spitfire doors can protect you, contact us today!
---
Our Showroom
We take pride in having a beautiful showroom that shows off our stunning products. This includes the fabulous S-200 and S-500 Spitfire doors. You can get in touch with us to find out more information about our showroom by leaving us a message. You can do this by filling out our online contact form. You could even request a quote from us too!
We look forward to hearing from you soon!